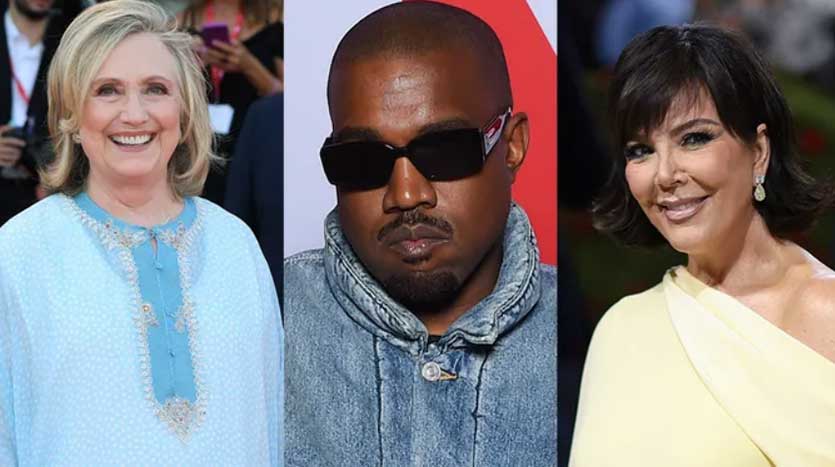 Rapper Kanye West has deleted a series of Instagram rants he posted on Thursday after jabbing the Clintons, Kris Jenner, and a host of others connected to his former marriage with Kim Kardashian. The Yeezy fashion designer urged whoever he was addressing to never let his children be addicted to pornography the way his former mother-in-law made his ex-wife and former sister-in-law.
"Don't let Kris make you do Playboy like she made [Kylie] and Kim do," West pleaded. "Hollywood is a giant brothel. Pornography destroyed my family. I deal with addiction. Instagram promotes it. Not gonna let it happen to North and Chicago."
While linking the Instagram plea to Kylie Jenner's former assistant, Victoria Villaroel, West made the Playboy reference to link Kris Jenner's famed support for her daughters posing for Playboy magazine. He even stated that he would not allow Kim to determine the schools to be attended by his children, adding that his former wife was being presumptuous because she is half-white.
"I'm the kids' father," he declared. "My kids going to Donda; they not going to Sierrah Canyon. You don't have a say-so in where my kids go to school. Why do you get a say? Cause you half white? Y'all don't have so so over my black children and where they go to school. They will not do playboy and sex tapes. Tell your Clinton friends to come to get me. I'm here."
It is likely that Kanye deleted or archived the Instagram posts after Kris Jenner reached out to Kim to prevail upon him to stop the social media rants. Jenner had posted that "Tell him to please stop mentioning my name…I'm almost 67 years old and I don't always feel great and this stresses me to no end." And Kim in deference had written to Kanye that "Can u please stop?"
Kanye, who now wishes to be addressed as Ye, also asked Travis Scott and Tristan Thompson to stay with him in his battles, saying "we in this 2gthr." Trevor Noah recently defended Kanye – even though the Donda rapper hurled racial slurs at him prior – when he stated that The Grammys ought not to have canceled Kanye's performance at the event – an event that Noah hosted as premiere and comedian.