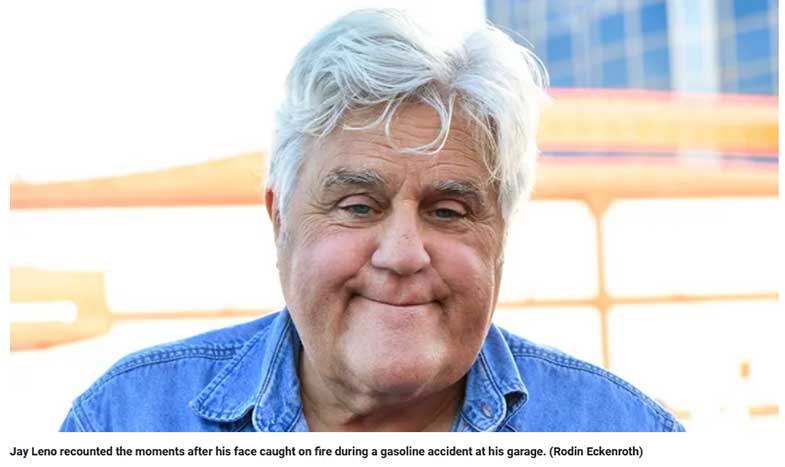 Jay Leno, 72, suffered a fatal motorcycle accident that left his two ribs, two kneecaps, and one collarbone was broken – on January 17. He said he was testing a 1940 Indian motorcycle along the street when he perceived the smell of leaking gas. He said he veered into a parking lot and hit a wire that threw him off the bike, Fox News reports.
"I turned down a side street and cut through a parking lot, and unbeknownst to me, some guy had a wire strung across the parking lot but with no flag hanging from it," he stated. "I didn't see it until it was too late. It just clothesline me and, boom knocked me off the bike. The bike kept going, and you know how that works out."
In November, Leno suffered third-degree burns on his hands and face at his Burbank garage while working on a vintage vehicle. A gasoline fire had erupted, and he had to undergo multiple surgeries to treat his injuries. His doctor, Peter Grossman, said he was also treated in a hyperbaric chamber to reduce his swelling, increase blood flow with good oxygenation, and decrease bacteria infection.
With this second accident two months after the first mishap, the comedian and former host of "Tonight Show" said he chose to be silent on his latest ordeal because the first accident generated massive media attention. He said he is much better now and will even be working very soon, adding that he has a show coming up in Las Vegas on March 31.
Six days after he was discharged from the hospital in November, he still performed stand-up comedy at a club in Southern California. He was hospitalized for nine days.
Leno began hosting NBC's Tonight Show in 1992 after the retirement of Johnny Carson. He left in 2009 when Conan O'Brien took over the show, but he returned again in 2010 and remained till 2014 when Jimmy Fallon took over from him. He later started the "Jay Leno's Garage" show series on CNBC and its iteration "You Bet Your Life" later. His love of cars is known throughout the United States.