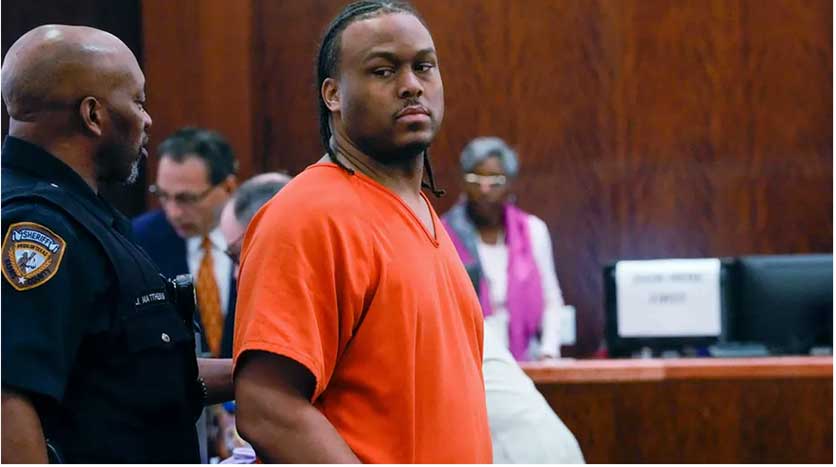 A DJ and nightclub promoter, 33-year-old Patrick Xavier Clark, has been indicted for the murder of Migo rapper TakeOff. Clark was indicted by a grand jury in Harris County, Texas, on Thursday for the shooting death of Takeoff, 28, on November 1 at 810 Billiards and Bowling in Houston.
According to the police, Takeoff and others left a private party at around 2:30 am on the fateful date and an argument ensued among a group of people over a game of dice. Houston Police Chief Troy Finner said Takeoff was an innocent bystander who was not part of the game of dice nor knew the gamers.
But following the argument, Clark brought out his gun and shot in the direction of Takeoff and he was hit in the head and back, causing his instant death. Clark held a bottle of wine in one hand and fired his gun with the other. The FBI used surveillance video and fingerprints on the bottle to identify him as the shooter.
Another man, Cameron Joshua, was also arrested and charged with unlawful possession of a weapon in relation to the shooting death. The jury said Clark "unlawfully, intentionally, and knowingly commit the felony offense of deadly conduct by knowingly discharging a firearm at" Takeoff, killing him. The offender is represented by Letitia Quinones-Hollins.
Although Clark is on a $1 million house arrest bond when the jury reached its verdict, his attorney said she is not surprised that the jury convicted him of murder. But she said she will prove to the courts that her client is innocent and that the same jury will reverse their decision when that is done.
"We would ask people to remember that getting an indictment requires meeting a very, very minimal standard of proof," Quinones-Hollins said. "When we get inside a courtroom and in front of a jury, where we will be able to put on our evidence and cross-examine the state's witnesses – where the standard of proof is guilt beyond a reasonable doubt – we expect the jury will come back with a verdict of not guilty."
Prosecutors also accused Clark of trying to evade justice by fleeing the country. They said he searched online for ways to acquire an expedited passport using fake plane tickets. Quinones-Hollins denied this, saying it is not true.
Before his death, Takeoff was a member of the Migos rap group. The group was made up of his cousin Offset and Uncle Quavo. They were from Atlanta and were nominated for a Grammy Award years back. Drake and Justin Bieber among other artists mourned him when he died last year.