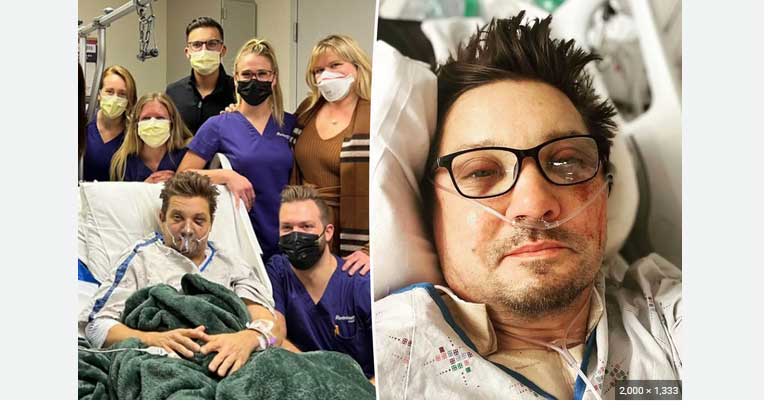 Following a New Year's Day accident in which Marvel star Jeremy Renner was injured while using a snowplow to clear snow from his property, the movie actor has reached out to his fans to thank them for their prayers and support. The Avengers actor celebrated his 52nd birthday on January 7 in a "critical but stable" condition in a hospital, according to his family members.
The Washoe County Sheriff, Darin Balaam, had stated on January 1 – the day of the incident – that Renner was clearing about 3 feet of snowfall from his property and also helping his neighbor to remove snow from their property before the accident occurred. He was operating the snowplow by himself and had always done this before the New Year's Day mishap.
"We can confirm that Jeremy has suffered blunt chest trauma and orthopedic injuries and has undergone surgery today (2 January)," Renner's family disclosed. "He has returned from surgery and remains in the intensive care unit in critical but stable condition."
Investigations revealed that the actor was trying to extricate his car from deep snow when the snowplow accidentally ran over him. Treatment logs from the Nevada hospital where he was transported revealed that he underwent two surgeries before he could be stabilized. The snow machine ran over one of his legs, leading to massive blood loss; and his upper torso was crushed and his chest collapsed.
The actor posted several Instagram Stories videos about the progress of his recovery from the hospital and thanked everyone for their show of love. In his first hospital post, he stated that "Thank you all for your kind words. I'm too messed up now to type. But I send love to you all."
In the first video he would share from the hospital, Renner's sister and mother were seen massaging him, with him saying the massage was a spa, the first bath he would have in a week. He stated that his sister and mother were on hand to give him a spa experience to lift his spirits. He also thanked the ICU staff for their dedication to his recovery, saying they did great work putting him together again.
Some of his professional colleagues that had reached out to offer support include Evangeline Lilly, Hailee Steinfeld, Chris Hemsworth, Chris Pratt, and Taika Waititi among others. Hundreds of fans and friends also prayed for him and wished him a quick recovery.