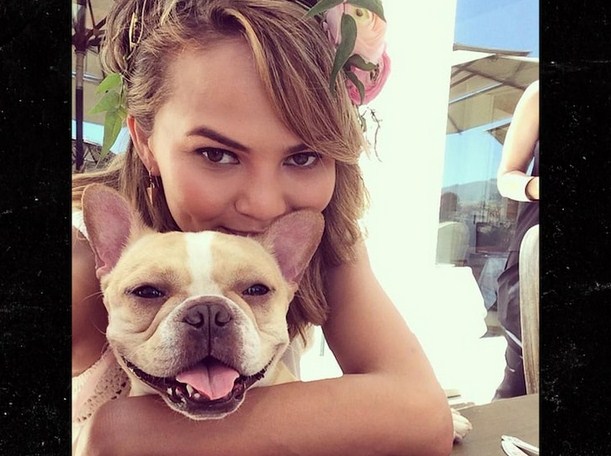 Chrissy Teigen and her husband John Legend are mourning the death of their 10-year-old French bulldog, Pippa. In several Instagram posts, the celebrity couple lamented the loss of Pippa on Thursday night, with Teigen saying the dog just died in her arms.
"Our beautiful little Pippa just died in my arms, not long ago," she wrote. "She was 10, I remember picking her up in Gainesville and documenting our trip home."
Sharing the photo of her dog with her 34.9 million Instagram followers, Teigen said her dog loved its pearl necklace and would not stand any threat from any new dog in their house. She thanked the dog for "giving us your whole life" and expressed so much love for the dead dog.
The model turned TV personality and lifestyle entrepreneur had just revealed that she was battling depression and looked forward to comforting her dog before the dog died unexpectedly. Following allegations of cyberbullying after she allegedly told reality star Courtney Stodden to commit suicide, and the loss of several endorsements deals on account of the allegations, Teigen said the controversy has turned her life upside down and that it "feels so weird to pretend nothing happened".
"I need to snap out of this, I desperately wanna communicate with you guys instead of pretending everything is okay," she wrote. "I'm not used to any other way! Cancel club is a fascinating thing and I have learned a wholesale lot. Only a few understand it and it's impossible to know till you're in it. And it's hard to talk about it in that sense because obviously, you sound whiney when you've clearly done something wrong. It just sucks."
John Legend also posted a photo of Pippa on Instagram and said he would miss the dog. Teigen lost an English bulldog, Puddy, in 2018 and lost a pregnancy in late 2020 following a medical complication.
Source: cnn.com