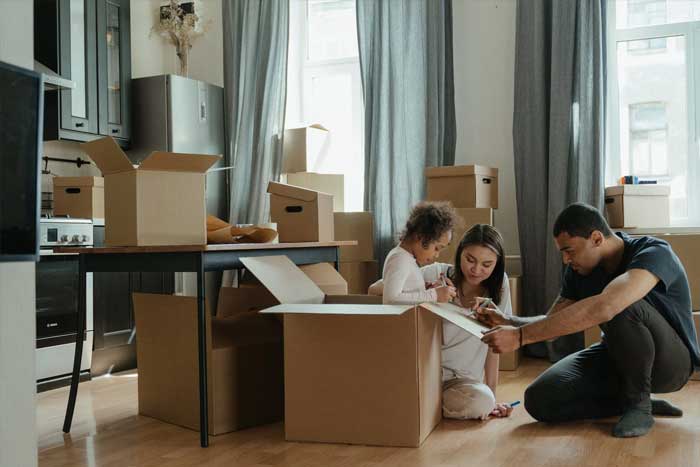 Moving into a new house can often signal a whole new life and a change in the situation which can be both revitalizing and refreshing. It's an exciting time when we move as we can enter a new mindset, create an upgraded routine and move onto bigger and better things.
Moving definitely comes with headaches and stresses, especially when we have never done it before and you need to be organized and motivated to get it done. Chances are you have amassed quite a lot of personal possessions so you're going to need to box everything up and ensure it gets moved safely and securely to your new pad. A lot of the time your new place is going to have a whole new look and feel to it, but seeing it as an opportunity for real change is definitely something to embrace.
As with anything in life, it is always nice to take care of the things we work hard for and in order to create a safe, loving atmosphere at home we need to nurture our surroundings and build an environment that we truly enjoy. Without viewing your home as a safe haven you will have nowhere to retreat to after work or when things get a bit much out in the real world. Your house should be viewed as your own personal space that reflects your personality, style, and creative flair.
So I Just Got A New Place, How Can I Make It More Comfy & Cozy?
If you're looking for inspiration on the best ways to kit out your new place, there is a wealth of ideas and resources out there for you to make it happen exactly how you want it to. You want to try and implement things that are quirky and that people haven't necessarily thought of before.
Roof Lanterns
These are a great shout if you're looking to have a place that provides a lot of natural light and creates a space where people don't feel trapped or even like they are inside. With roof lanterns, you can illuminate your new space and also have a wide option of choices in terms of how they operate, from self-pull blinds to electric blinds and more. This means you have complete control over how you manage them and you decide when you want the light and when you want to switch things off for the day and shut up shop.
Comfy Furniture
There might be nothing more important to creating a comfy new place than your choice of furniture. Whether it's the chairs in the kitchen for dinner, a sofa in the living room or even your choice of beds, we all spend a lot of time each day either sitting or lying on the furniture in our homes so it's crucial you invest in comfy furniture if you're looking to build a cozy environment. The last thing you want to do is find out you have bought furniture that you don't even like after going through the whole process of getting it in the new place.
Cool Decor
Nothing screams comfy like your choice of decor and you want to match your mood with the colors and aesthetics in your house. Human beings are naturally attracted to colors we like and using the colors we enjoy can have a deep impact on how we feel, so be sure to kit your new place out in cool decor which you genuinely like and will enjoy.
Family Photos
There's nothing more comforting than the support and love of our family and friends, so if you're looking to feel as comfortable and cozy in your new place then you need to get some awesome photos up as soon as possible. It's the people in our lives that tend to remind us everything is OK and to not sweat the small stuff. Life is nothing without the people in it.
Soft Blankets
Chances are you going to be chilling out a lot in your new place so it is definitely a good shout to have some soft and cozy blankets within reaching distance. It gets cold in the winter and the only way to get cozy is either having layers on or being under a nice blanket, so invest in some today and make sure you're never uncomfortable again!
Awesome Fireplace & Central Heating
Being warm and cozy doesn't just happen by itself and you need to ensure you invest in the right heating in your new place. If you're lucky enough to have a fireplace then you want to make sure you have enough wood and all the tools required to keep the place nice and warm when it gets cold. The beauty of living in this day and age is we have access to central heating and can keep our homes warm and cozy when winter comes around, so be mindful of your heating system and invest in the right one.
Getting a new place is exciting and fun, but can also be stressful and tiring. Your end goal here should be finding ways to make it super comfy and cozy, exactly what a home should be!