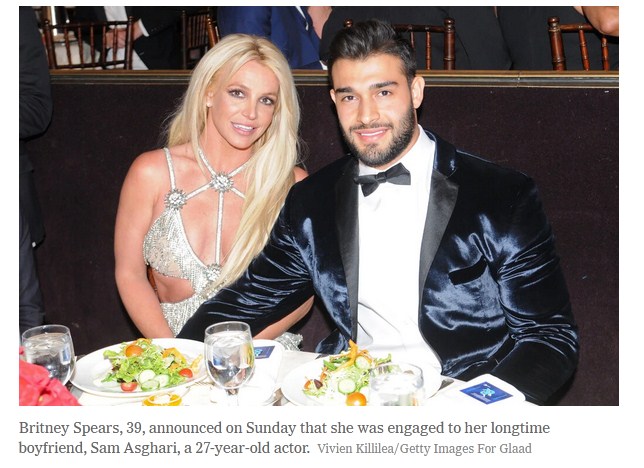 Singer Britney Spears has announced her engagement to longtime boyfriend Sam Asghari. The musician who has been out of public light for almost four years due to the conservatorship managed by her father announced her engagement on Sunday. She and Asghari showed off her engagement ring on Instagram.
Asghari's talent manager, Brandon Cohen, said Spear's ring was designed by New York City jeweler Roman Malayev. He also confirmed that the Spears and Asghari are overwhelmed with the support that people have shown to them since they began dating.
"The couple made their longstanding relationship official today and are deeply touched by the support, dedication, and love expressed to them," Mr. Cohen said.
Asghari is an actor and fitness trainer who met Spears while shooting her music video for her song Slumber Party in 2016. With their engagement, they look forward to getting married soonest. This will be the third marriage for Spears. She married her childhood friend, Jason Alexander, in 2004 and the marriage lasted for only 55 hours.
She also married Kevin Federline in late 2004, and they got divorced in 2006. They have two sons. Federline was a music rapper, actor, and backup dancer.
During a court hearing in her conservatorship case against her father in June, Spears said her father has taken over her life and rules her existence in every manner. She claimed that her father would not allow her to remove her contraceptive, so she could have babies again, and that she is often drugged and made to do hard labor.
"I just want my life back," Spears said. "I truly believe this conservatorship is abusive. I don't feel like I can live a full life. I want to be able to get married and have a baby. I was told right now in the conservatorship I am not able to get married or have a baby."
She declared that she wanted her father, James P. Spears, to be removed as the sole conservator of her estate. Her father in August agreed to step aside and enable his daughter to take control of her affairs again – if she thinks she can do it.
"If Ms. Spears wants to terminate the conservatorship and believes that she can handle her own life, Mr. Spears believes that she should get that chance," James Spears' lawyers said.