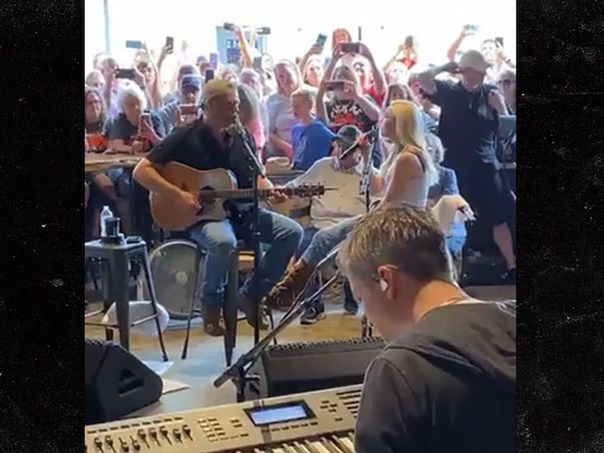 Newlyweds Blake Shelton and Gwen Stefani have treated their fans to a surprise live performance at his Ole Red restaurant in Tishomingo, Oklahoma. Shelton, 45, married Stefani, 51, at Shelton's Oklahoma ranch on July 3 and the famous couple has been up and doing since the wedding took place.
While it was totally unexpected for Ole Red bar customers, Blake and Stefani grabbed microphones and guitars on Thursday to dish out their favorite and upcoming songs to the delight of the restaurants' patrons. While Stefani's new wedding ring shone beautifully on her hand, the crowd had an up-close-and-personal session with the new couple as they sang. Blake told the patrons that he was delighted his new wife could perform at the small restaurant in his hometown.
The couple sang "Happy Anywhere," a 2020 collaboration that was featured on Shelton's Body Language album. They also sang "Nobody But You" which Blake also put on his Fully Loaded: God's Country in December 2019. After their wedding, the couple had gone back to their Los Angeles home to face their individual music business since insiders report that they are so booked with activities this year.
Shelton will continue with Season 21 of The Voice show after which he will embark on a road tour in August, while Stefani is also putting touches on her fifth album and preparing for her Las Vegas residency. "They're both very, very busy this year with work, and this was the only time they could fit in the wedding," a source close to them revealed.
Blake and Stefani got married at a backyard chapel on his ranch, and 40 people made up of friends and family members attended the ceremony. It was officiated by Carson Daly, Stefani's old friend, and her three children which she had for former husband Gavin Rossdale – Kingston, 15; Zuma, 12; and Apollo, 7.
DJ Lucy Wrubel played a favorite playlist of the couple at the wedding reception and most of the songs they danced to were sung by their famous friends which included Carrie Underwood, Luke Bryan, Kelly Clarkson, and Maroon 5. A 5-tier cake was cut for the wedding, and attendees said the wedding could not have been better any other way. Insiders said the couple is very happy and looks forward to a glorious future together despite their divergent musical careers.
Source: yahoo.com