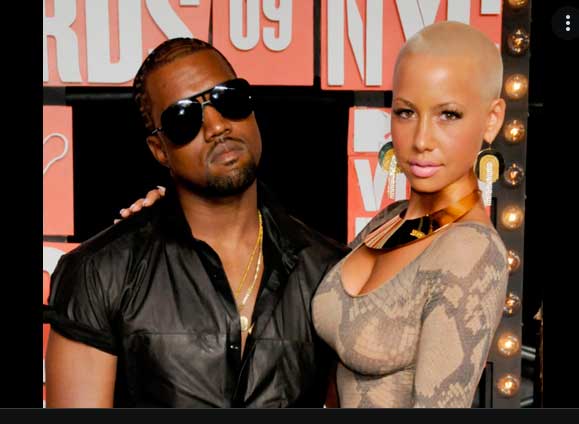 Amber Rose, who dated Kanye West from 2008 to 2010, has revealed that she always knew his marriage to Kim Kardashian would not last. Although Amber said Kim was a critical factor in her breakup with Kanye – who prefers to be called Ye now – she said she didn't wish for them to divorce even though anyone should know it would happen, BuzzFeed reports.
Amber got married to Wiz Khalifa after their breakup with Kanye.
In a recent interview, Amber said she has her feelings and opinions on her former relationship with Kanye. For context, after her split with the rapper, Kanye infamously said he "had to take 30 showers" after leaving Amber before he could get into bed with Kim. And in her reaction, Amber responded by saying "After all these years, I never snitched on you…I'll leave you up to the Kartrashians to humiliate you when they're done with you…"
Although Amber noted that it is obvious that Kim is happy with their new boyfriend Pete Davidson at the moment, she made it clear that there is a great contrast between her and Kim even though they share the same birth date – October 21. "We grew up completely different," she said. "I grew up poor in Philly, I had to hustle and struggle. Her life was very privileged, with money and being out here in LA—which is cool."
Amber said there was no grudge or ill feelings after she broke up with Kanye, saying her marriage with Wiz has more than compensated her for everything. "I was just happy in my marriage at the time with Wiz, or even after just doing my thing," she said. "I never really thought about it much." She, however, recalled that she exhaled when she first heard that Kanye and Kim were getting a divorce.