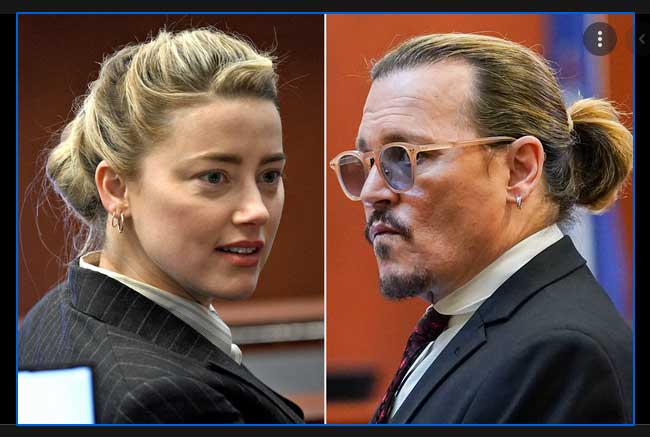 Amber Heard has filed an appeal to the $10 million defamation verdict ruled against her in favor of former husband Johnny Depp. Although her lawyers did not provide the grounds upon which they are appealing the $10 million she was ordered to pay Depp, she wants the court to vacate the compensation verdict as well as have the court either dismiss the lawsuit or order a new trial.
Heard's attorneys filed the notice of appeal at the Fairfax County circuit court on Thursday. The lawyers said, "We believe the court made errors that prevented a just and fair verdict consistent with the first amendment; we are therefore appealing the verdict." The lawyers also said they are aware that the appeal would generate massive reactions in social circles, but they are determined to achieve fairness and justice for their clients.
A Virginia jury found Heard guilty on June 1 of December 2018 op-ed published in The Washington Post, in which she said she was "a public figure representing domestic abuse." In suing his former wife for libel, Depp said Heard defamed him through the article piece, even though he was not mentioned by name. Heard sued back and claimed Depp's former attorney also defamed her by saying her op-ed was a hoax.
After weeks of trials and numerous witnesses, the jury found Heard guilty of defaming Depp and ordered her to pay a compensation of $10 million to him. Another $5 million was awarded against her as punitive damages, but this was reduced to $350,000 in line with the cap in Virginia. The jury also ordered Depp to pay $2 million to his former wife on account of her counter litigation.
After the notice of appeal was filed at the circuit court on Thursday, Depp's lawyers expressed optimism that the court will throw out Heard's appeal and re-affirm Depp's verdict.
"The jury listened to the extensive evidence presented during the six-week trial and came to a clear and unanimous verdict that the defendant herself defamed Mr. Depp in multiple instances," a spokesperson for Depp said. "We remain confident in our case and that this verdict will stand."
Weeks ago, Heard's lawyers asked the court to vacate the sentence against her, but Judge Penney Azcarate said they failed to raise their appeal within the legal time allowed and that Heard had not proven that a fair trial was denied her to warrant the appeal.