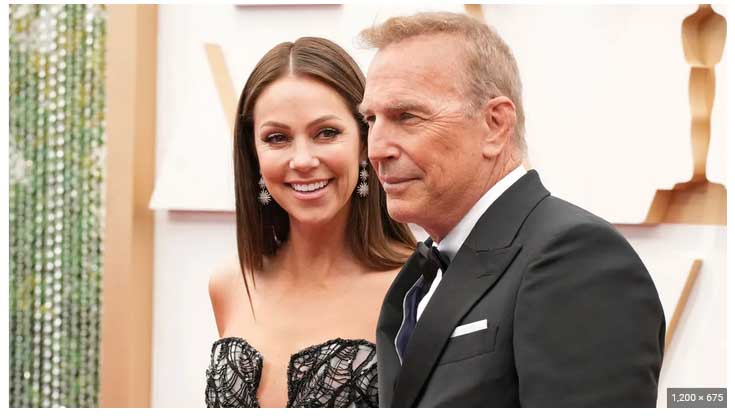 Actor Kevin Costner's estranged wife, Christine Baumgartner, is demanding $248,000 per month to support their three children. Christine said her family lives a very opulent lifestyle and that the $248,000 she is asking for to take care of her children is below their current needs. She filed this request as part of her divorce proceeding at the Superior Court of California, County of Santa Barbara, on Friday.
Christine revealed that Kevin earned $19,517,641 in 2022 alone and that her children spend $332,264 per month to maintain their traditional lifestyle. She noted that the $248,000 child support she is asking for is only 60% of what they are used to. She stated that despite the forthcoming divorce from her husband, her children must continue the lifestyle of traveling the world in private planes and staying in luxurious hotels and private homes.
To give an idea of their normal family lifestyle, Christine disclosed that in 2022 alone, her family spent $830,000 on gifts to people, expended $22,000 on spa visits, paid $542,000 to gardeners, and more than $25,000 on boat trips. She revealed that her family spent $6,645,285 on household expenses last year and the net family income after fees and taxes was $7,595,520.
The lady said that her kids are used to traveling to the Caribbean, Hawaii, and the Aspen among other exotic destinations, and that the child support she is actually asking for "is less than needed to maintain the children in their accustomed lifestyle." She added that they usually hired caterers or chefs to entertain guests and that continuing this lifestyle would cost up to $2 million annually.
Incidentally, she is not asking for spousal support, but analysts think this might change in the coming weeks.
Kevin Costner, 68, got married to Christine, 49, in 2004 in Aspen, Colorado, and they have three children – Cayden, 16; Hayes, 14; and Grace, 13. Kevin has four other adult children from previous relationships. Christine filed for divorce in May after 19 years of marriage to the Oscar-winning movie actor and producer.
Based on their prenup agreement which stipulated that Christine must move out of their family home within 30 days of any divorce proceeding, Kevin reportedly paid out $1.45 million to her to enable her to get a suitable home for herself and the kids; but she has allegedly refused to pack out, a development that is making the actor consider going to the courts to enforce his rights.
On May 2, Kevin's representative wrote in response to a comment, "It is with great sadness that circumstances beyond his control have transpired which have resulted in Mr. Costner having to participate in a dissolution of marriage action. We ask that his, Christine's, and their children's privacy be respected as they navigate this difficult time."