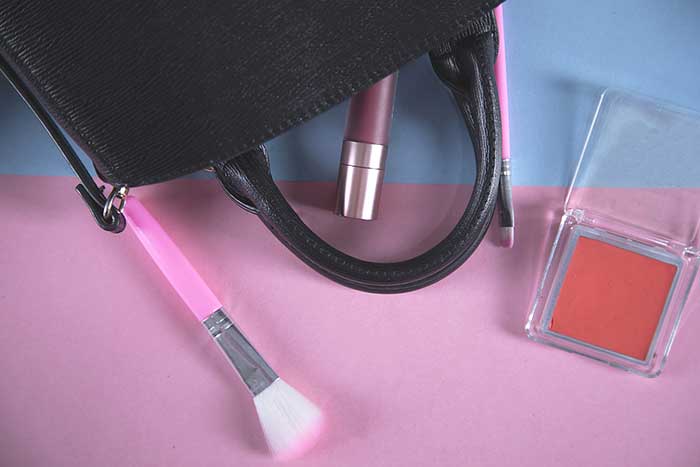 So, you're packing for a big trip, and it's time to lay out your makeup.
As every woman knows, filling a vacation makeup bag is no simple task.
How many shades of blush should I bring? Will I need my entire eyeshadow palette? How about lip scrub? False eyelashes?
All valid questions.
Still, when it comes to sorting your makeup for a trip, packing light and efficiency are always key. Most makeup is small and pretty "compact" (get it?), but there's still no need to shove in what you won't use.
At the same time, there are several essentials you should absolutely never leave home without. Here they are:
7 Essentials for Your Makeup Go-Bag
1. A moisturizer and primer combo product
One of the best travel tips for makeup is to buy products that serve multiple purposes. Let's start with your base: Moisturizer and primer.
These are two layers you'll definitely need to bring as they are critical before applying your foundation. But your makeup routine will go much faster if you can find a product that combines both a moisturizer and a primer.
2. A foundation with SPF
Again, find multiple-use products to save precious suitcase space.
Instead of bringing a foundation and an SPF product separately, find one of the hundreds of foundations that have SPF built in. Chances are, your vacation will involve at least a little time in the sun. And as we all know, SPF is key whenever going outdoors. (Some dermatologists even say you should wear sunscreen on days spent indoors.)
When it comes to choosing your shade, keep your vacation skin tone in mind as well too. If you do end up spending a lot of time outside on the beach and getting a slight tan, you'll want to pack a slightly darker foundation shade to match.
3. A blush and bronzer combo
In keeping with the combo theme, look for a single blusher and bronzer palette instead of separate blush and bronze products.
These combo palettes often feature multiple shades of pink, coral, and bronze swirled together. They may even have a highlighter swirled in. This way, as you apply your contour, blush, and highlighter, you can simply direct your brush to the shades you need and ultimately save time and space in your bag.
4. Mascara
There's simply no leaving home without mascara!
Pack the one you tend to use most often. Or, if you really want to save just a smidgen of extra room, your travel makeup bag is a great place for those mini mascara samples you often get with online beauty orders.
5.Two basic eyeliner pencils
For most women, eyeliner is enough for a complete eye makeup look — in addition to mascara, of course. There are so many looks you can achieve with just these two products.
When it comes to eyeliner shades, you can't go wrong with black and brown. The majority of women will look good with either one, or you can combine a baseline of black and a smudge line of brown on top for a more dimensional look.
Of course, if you're used to wearing eyeshadow every day, there's certainly room to pack your eyeshadow palette. Just stick to basic shades that you're used to using. Chances are, even though you're on vacation, you're not going to get crazy and use the colors you never like to use at home.
6. Your favorite brow pencil or palette
Unless your brows are always on fleek with minimal intervention, you'll definitely need to pack your favorite brow product.
For some women, this is a brow pencil. For others, it's a brow powder or a pen. Sometimes, all you need is a good brow gel to keep those babies in place.
7. Setting spray
Speaking of keeping things in place, vacation is the perfect opportunity to use a setting spray. Setting sprays keep your makeup in place, preventing smudging and streaking. You'll want this for these long days of traveling, touring new cities, and going to the beach.
Don't Forget to Pack These Extras!
Finally, don't forget these other non-makeup travel essentials, which are perfect to add to your makeup bag:
Mini Sewing Kit
Don't let a snag in your dress keep you from looking fly on your night out! Having a travel sewing kit on hand can truly save the day.
CBD Oil
Taking a vacation can be fun and exciting, but it can also be stressful. Curb the anxiety and stress of traveling by bringing along CBD oil from your favorite San Jose dispensary.
Backup Battery for Your Phone
How many times have you grabbed your phone to leave for a day trip, only to realize it's almost out of battery? Pack a backup battery, and you can simply pop this in your purse along with your phone — problem solved!
Be sure to grab all of these travel essentials for your next big trip! Bon, voyage!