Love Actually.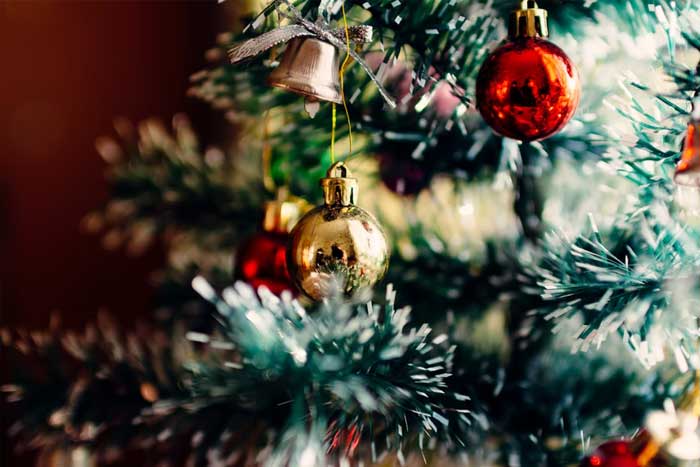 Love Actually is a 2003 romantic comedy set in the weeks approaching Christmas. The Christmas-themed film is composed of mainly internationally well-known British actors. The cast includes Colin Firth, Hugh Grant, Emma Thompson, Alan Rickman, Liam Neeson, Kiera Knightly, and many more.
Director Richard Curtis' Love Actually is mostly set in London and follows ten different forms of love and relationships which eventually prove to be interlinked.
Love Actually was nominated for the Golden Globe Award for Best Motion Picture—Musical and Comedy. Despite the mixed receptions of critics, the film became a box-office success, gaining $246 million worldwide from a budget of roughly $40 million.
It is heartwarming, sad, and funny, and an absolute must-watch for the Christmas Season. Richard Curtis' beautiful snowy shots and romantic love triangles in England will almost definitely put you into a fun and festive mood!
However, that's not all. Love Actually will also give you an insight into a variety of family situations and relationships, allowing you to have a greater perspective of the world.
After watching the film you will probably find yourself agreeing with the recurring phrase: "love surrounds us," because it truly does.
The Holiday
Another favorite Christmas classic is the director, Nancy Meyers', romantic comedy: The Holiday. The 2006 film is set in England and California and shows the story of two heartbroken women trying to escape from their current situations.
Whilst that may not appear as an incredibly festive image, the journey that they embark on is unlike any you could have heard of.
Many viewers argue that The Holiday was way ahead of its time with its use of technological advancements including the house exchange website which ends up driving the plot as well as self-employed job ideas.
Once discovering an online page that could allow them to swap houses, Amanda and Iris (played by Cameron Diaz and Kate Winslet) decide to turn around their lives and go on a relaxing and rehabilitating adventure.
Of course, their attempt to enjoy their solitude gets interrupted by the sudden appearance of two handsome strangers played by Jude Law and Jack Black.
Despite some critics arguing that the plot is too predictable, The Holiday can create a merry atmosphere regardless of the season and could also be a film that the whole family could enjoy together.
In fact, after its release by Columbia Pictures in North America and by Universal Pictures overseas, it became one of the greatest box-office successes of the decade by grossing over $205.1 million from a budget of $85 million.
Last Christmas
A more recent Christmas movie is the 2019 romantic comedy Last Christmas. This film is truly unique and differs from the classic festive films.
Last Christmas follows the life of Kate (played by Emilia Clarke), a young woman working in a Christmas-themed store. Director Paul Feig utilizes one of George Michael's greatest hits, 'Last Christmas,' to create a realistic and heartfelt plot as Kate begins to fall in love with a mysterious man.
Whilst the movie can provide you with a true modern-day romance, it also has a few unexpected twists. So if you are not ready to cry in the drive-through cinema on your date, then perhaps you should go for a more classic and cheery film.
Nevertheless, after its 2019 release by Universal Pictures, Last Christmas grossed a total of $123 million worldwide from a budget of $25-30 million.
Bridget Jones's Diary
Even though Bridget Jones's Diary is not exactly a Christmas movie, it captures the holiday's true spirit and atmosphere.
Based on the 1996 novel of Helen Fielding, director Sharon Maguire's 2001 adaptation translates almost perfectly onto the theatrical screen.
With the leading role of Renée Zellweger as Bridget Jones, we get an insight into the incredibly funny and unlucky woman's life. Zellweger manages to hilariously portray numerous outrageously embarrassing instances that have happened in most people's lives. The audience can both relate to and emphasize Bridget's struggles, be that in regards to relationships or dealing with difficult coworkers.
However, that's not all! With the movie being produced between April and November in 2000, the film captures the seasonal changes and the increasingly festive mood of London.
In addition to the film starring two of the most handsome actors of the decade in British cinematography (Hugh Grant and Colin Firth), the character of Bridget Jones has become an English pop culture icon, often appearing in daily conversation and references.
Zellweger's incredible performance of 32-year-old clumsy singleton also resulted in her rightfully being nominated for the Academy Award for Best Actress.
Bridget Jones's Diary grossed over $282 million from an initial budget of $25 million, ultimately proving to be a worldwide success. If you are ever feeling down then I can almost guarantee that Bridget Jones's Diary will put you into a much better (and possibly even festive) mood!