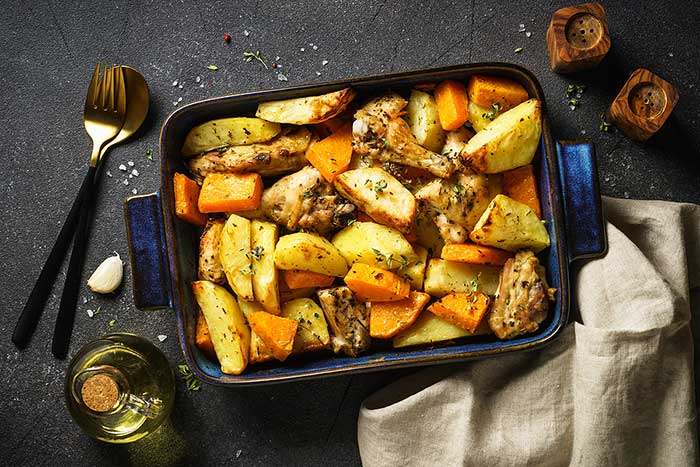 Are you tired of juggling multiple pots and pans while preparing weeknight dinners? One-pot meals are the answer. They shorten the time it takes to cook your meal and provide a simple way to whip up delicious recipes without all the extra mess.
In this article, we'll explore some easy one-pot meals that require minimal ingredients and effort – perfect for busy nights when you only have a little time or energy. Read on for some simple ideas that will make weekday cooking easier and tastier than ever before.
Easy one-pot meals that are quick and easy to make
As a busy person, easy one-pot meals are the way for dinner. Not only do they taste great, but they're swift and easy to make. All you have to do is throw your ingredients in one pan, and you'll enjoy dinner with family or friends in no time. With just a few minutes of prep work and minimal cleanup afterward, these tasty one-pot meals save you time and energy so you can get back to doing the things that matter most to you.
Plus, with all the delicious options available, it won't even feel like a compromise on taste. So treat yourself tonight – try out an easy one-pot meal and get ready to be amazed by how delicious and simple it is. If you are tight on time, check out https://mealmatchmaker.com/ for more info.
Recipes for chicken, beef, pork, and seafood dishes
Regarding one-pot meals, you can find recipes for almost anything – from chicken to beef, pork, and seafood dishes. With just a few ingredients and some seasonings, you can whip up a fantastic meal in no time.
For chicken lovers, try out this delicious one-pot Chicken Tikka Masala recipe. You'll need boneless skinless chicken breast, curry powder, tomato sauce or diced tomatoes with green chilies, fresh cilantro leaves (or dried cilantro), garlic paste or minced garlic cloves, onion powder, garam masala spice mix (an Indian spice blend available in most grocery stores) and more – all easily found in your kitchen pantry. And what's even better is this dish only takes 30 minutes to make.
For beef enthusiasts, try this hearty one-pot Cheesy Ground Beef and Rice. You'll need ground beef, onion, garlic cloves, diced tomatoes with green chilies, black beans (or red kidney beans), cheese, and more – all of which can be quickly found in your local grocery store. This classic American dish will surely please the whole family when served over a bed of cooked rice or potatoes.
And let's not forget about pork lovers – try this easy Pork Chops with Apples and Onions recipe. All you need is some boneless pork chops, olive oil or butter, onions, apple slices, garlic cloves, and a few seasonings for a fantastic meal that takes only 25 minutes.
Try this easy one-pot Salmon with Spinach and Tomatoes dish for seafood dishes. All you need are some salmon fillets, spinach leaves, tomatoes (whole or canned), garlic cloves, olive oil, and some Italian herbs you choose. This delicious yet healthy meal comes together in just 20 minutes.
Tips for making one-pot meals that are healthy and nutritious
One-pot meals are a great way to make sure you're getting all the nutrition you need while still eating something that tastes good. The key is to use fresh ingredients wherever possible and keep an eye on portion sizes. Add extra vegetables to your one-pot meal for added vitamins and minerals. Also, watch out for hidden fat – lean meats like chicken breast or ground turkey instead of fatty cuts like bacon or sausage.
And remember, one-pot meals don't have to be heavy in carbs – try subbing in quinoa, brown rice, or sweet potatoes for regular white rice or pasta to add fiber and nutrients to your meal. Finally, check the sodium levels of any canned goods or seasonings you're using – opt for lower sodium options where available to ensure your meal is as healthy as possible.
Ideas for using leftovers from one-pot meals to create new dishes
One of the great things about one-pot meals is that they are a great way to use leftovers. You can transform a dull leftover into a new dish with just a few extra ingredients.
For example, if you have leftover beef from your Cheesy Ground Beef and Rice meal, try making tacos with it – mix in some taco seasoning and serve on warm tortillas with cheese, lettuce, and tomatoes. Or, if you're feeling adventurous, why not try making empanadas? Fill pre-made pastry shells with your beef mixture, top with melted cheese, and bake for 20 minutes until golden brown.
You can also quickly turn any chicken leftovers from your Chicken Tikka Masala into a delicious wrap. Mix some cucumbers, diced tomatoes, and lettuce with the chicken and tuck it into a warm wrap for a fantastic lunch or dinner.
Finally, if you have leftover Salmon from your one-pot Salmon dish, try making fish sandwiches – add some mayonnaise, dill pickles, lettuce, and tomato to your salmon leftovers and serve on a warm bun.
How to save time when cooking by using the right tools and techniques
Cooking one-pot meals can be a great way to save time in the kitchen, but it's essential to use the right tools and techniques for the best results.
For starters, invest in some good quality non-stick cookware – this will ensure your food doesn't stick to the pan and allows you to use less oil. If possible, also invest in an extra large pot perfect for making one-pot dishes like chili or stew.
In addition, learn how to multitask while you are cooking. For example, if you're making tacos start preparing the toppings while the beef mixture is cooking so they can all be finished at once. This technique works incredibly well for one-pot dishes that require multiple steps.